T-shirt Shrug
I was recently given a couple of really cute sleeveless dresses. I'm a bit too modest to wear sleeveless, so I decided a shrug is what I needed. I found a couple tutorials online on how to turn a t-shirt into a shrug and decided to go for it.
First I found a $4 tee at Meijer, one that I love because I am a puffed sleeves kind of girl.
Then I measured and cut at the desired length.
Another cut right up the center.
A little bit of rounding the edges for shape.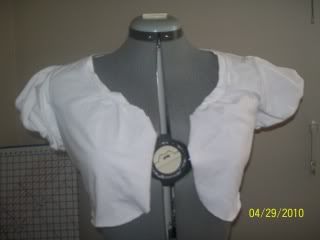 Then a quick serge around the raw edges.
Ta da!